SOUTHWEST ROUTS BEACH, 16-1
D'Lani Navarro hit an RBI triple and a two-run homer to lead host Southwest to a 16-1 victory over Miami Beach Wednesday afternoon at Tropical Park.
Yessenia Perez threw a one-hitter and struck out three in the game halted after two-and-a-half innings by the 15-run rule. The Hi-Tides' starting pitcher walked the first seven batters in the first inning before being replaced. The Lady Eagles (7-8) went on to score seven runs in the inning without benefit of a base hit. The Navarrro triple drove in the first run of the second frame and an error by the second baseman let the Southwest shortstop come all the way around to score the ninth run. Gaby Nuñez, who also had three RBI's, singled home Caitlyn Gorelick to make it 10-1 after two innings. The Lady Eagles sent 10 more batters to the plate in the third and final inning. Priscilla Roche's double scored her sister Sherlly and Navarro followed with her home run to right-center. Gorelick then tripled and scored on an infield single by Ami Casteleiro. An error, followed by three more walks, brought the game to a merciful conclusion. Seniors Gorelick and Priscilla Roche were honored in a post-game ceremony (see below). Beach falls to 4-9.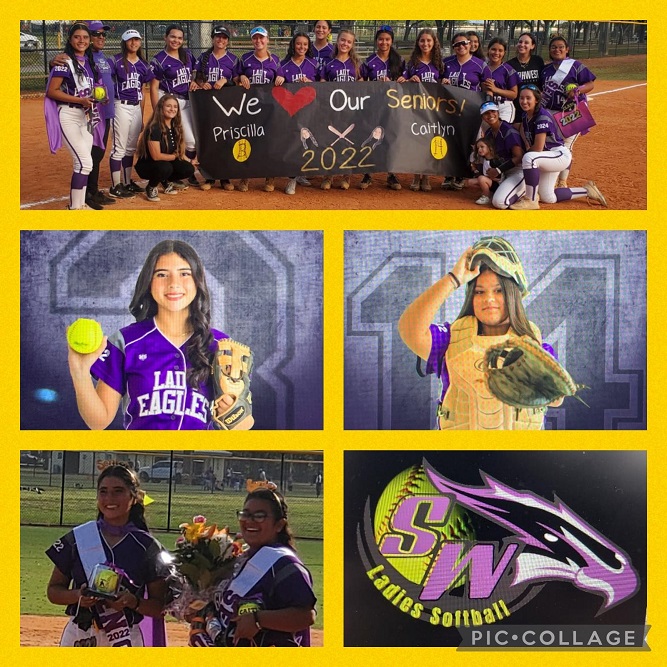 Seniors Priscilla Roche (left) and Caitlyn Gorelick in the post-game ceremony