Southwest dominated on both sides of the ball in a convincing 41-6 victory over neighborhood rival Coral Park Friday night at Tropical Park. The win, before a huge crowd of happy Eagles fans, gave Taj Marshall his first victory as a head coach. Southwest's offense only had to punt once in the game. The Eagles (1-0) needed only one play to score on their second possession when senior Derrick Ferguson raced 64 yards for the touchdown. Santiago Pernalete made the first of his five extra points to make it 7-0. The Rams, under first year head coach and Southwest alum Julio Nuñez, used a 74-yard run to move the ball to the Eagles one, but still needed three plays to punch it in. Ferguson's second touchdown, a fifteen-yard run, and a 27-yard scramble by quarterback Deandre Pique made it 21-6 at halftime. In the third quarter, Pique scored on a 1-yard run, Kevin Rodriguez took it to the house on a 43-yard pick-six and Antwan Delancy Jr. returned a punt 50 yards to make it 41-6. The 35-point margin triggered the mercy rule, and a running clock was used for the rest of the game. Coral Park ran seven plays in the fourth quarter before the officials ended the one-sided event.
NOTES:
1. Southwest scored more points against Coral Park than all of last season (32).
2. The Eagles have won 18 of the last 20 games against the Rams.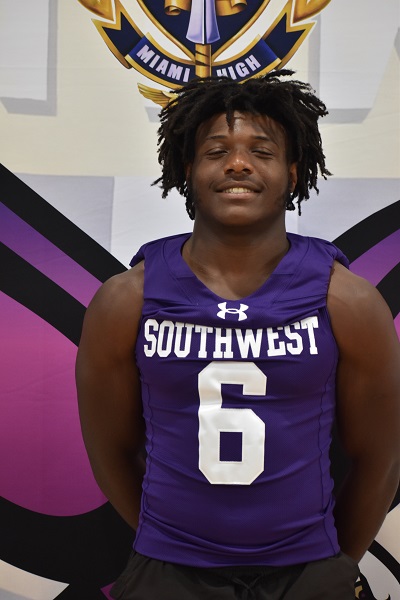 Derrick Ferguson scored Southwest's first two touchdowns